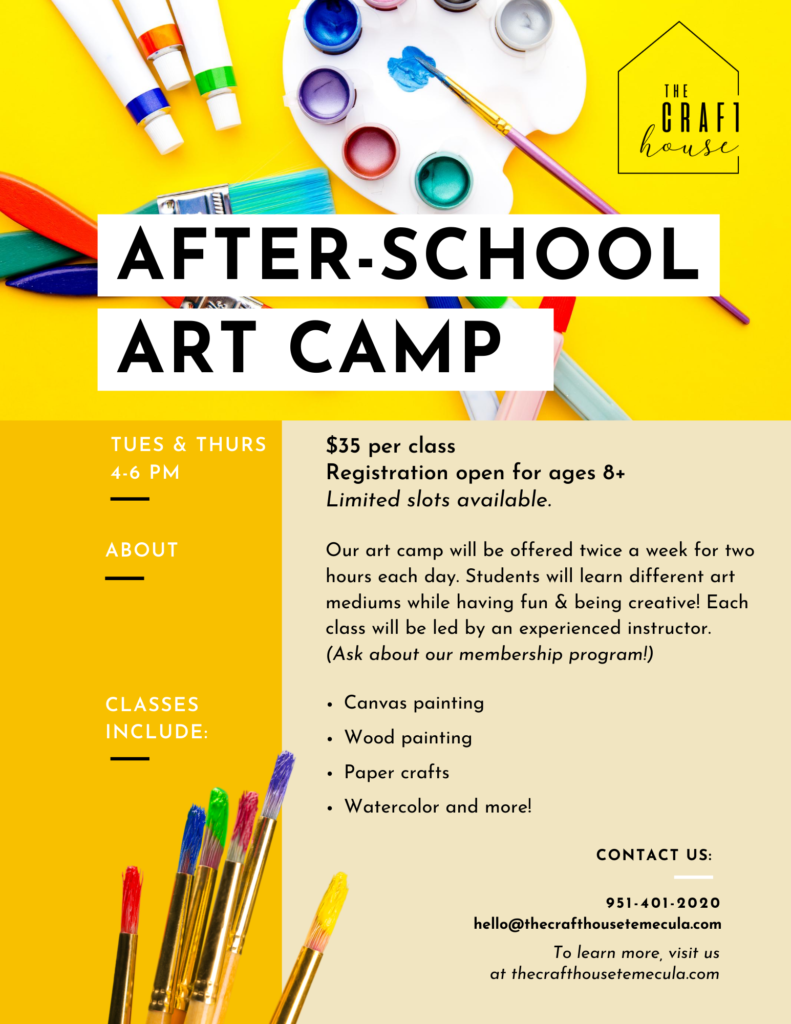 We are now offering After School Art Camp!
Our art camp will be held every Tuesday and Thursday of every month from 4:00 – 6:00 pm. The cost is $35 per camper, per class and is for ages 8+. Each class will be taught by an experienced instructor and will offer a different art project for campers to work on (see below for scheduled activities offered.) Our art camp is a "drop-off" program, parent supervision is not required.
We are also offering an "Art Pass" membership program for our camp workshops. The cost is $120 and is good for up to four workshops per month! This is a great option for those who love all things art! Additional terms and conditions apply.
For more information and/or to sign-up, click the button below.

September dates and activities:
Sept 8th: Intro to Landscape (Canvas + Acrylic)
Sept 10th: Fall Leaves banner (Paper Craft)
Sept 15th: Scarecrow painting (Canvas + Acrylic)
Sept 17th: Autumn inspired rock painting (Rock + Acrylic)
Sept 22nd: Autumn Truck wood painting (Wood + Acrylic)
Sept 24th: Pop Art Leaf painting (Canvas + Acrylic)
Sept 29th: Owl painting (Canvas + Acrylic)